Condolences
Anyone with Good and Welfare concerns please email information to info@uaw1700.com
Eboni Solomon Update
Unfortunately, Local 1700 has not been given any further information regarding the final arrangements for Eboni Solomon.

In Loving Memory of Eboni Solomon
We would like to acknowledge the passing of our sister Eboni Solomon. She was known and loved by many of our members, so this may be a difficult time for them. If you need to talk or require any other assistance, please contact me:
Kendra Thorington-Fox, UAW-Local 1700 EAP @ (586) 978-6548
If you have been transfered to another location, you can also speak to your EAP representative there:
JNAP - Tielece Perry @ (313) 956-7644
Mack - Richelle Hall-Smith @ (313) 252-6542
Trenton - Ken Conners @ (734)783-8557
WTAP - Derek Shepperd @ (586) 755-9924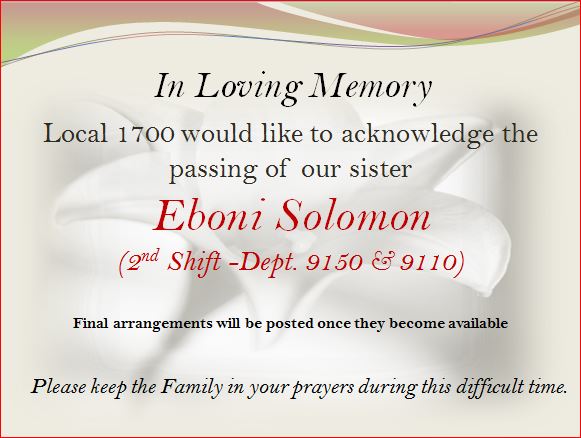 Enlargeable image:
Download:

Eboni Solomon Notice.JPG
In a bittersweet moment another Angel has found their wings
UAW Local 1700 is sad to announce that its oldest retiree passed away yesterday. Elizabeth Williams known to many as "Mamma Liz" worked primarily in Body and Paint. Mamma Liz was just that to all of those who knew her. Mamma Liz retired from SHAP March 31, 2003 after several years of service & committed UAW member. She leaves behind a host of family and friends that will miss her dearly.
She was 95 years young.
Brother of Maria Wade
Please keep our Union Sister Maria Wade and family in prayer as they deal with the loss of their love one.
Father of Twyla Moss
Please keep our Union Sister Twyla Moss and her family in our Prayers. Twyla has lost her father.
UAW Brother, Robert Slezak
It is with deepest regret and sad to report the loss of one of our Brothers, Robert Slezak of 9150. Known to most as Bob, was a UAW Member of Local 1700 who worked 2nd shift Trim Dept. Our deepest sympathy goes out to his family, friends and loved ones.
"Although it's difficult to day to see beyond the Sorrow, may looking back in memory help comfort you tomorrow."
People we work with can become like an extended family. When there is a loss of life, friend and co-workers grieve.
If any co – worker needs support or to talk with someone to deal with the loss of our brother, feel free to contact UAW Employee Assistance Program Rep Kendra M. Thorington-Fox at 586.978.6548 or email KMT12@chrysler.com.
General Baker
Labor Activist and Leader, General Baker has passed away. Please keephis family in your prayers, he certainly will be missed.

Retiree James Brown Sr.
Please keep our brother James Brown Sr. (Retiree) in our prayers. He suffered a house fire. He was very fortunate that no one was injured; however he loss everything.
---
Memorial Service for Michael Brown
Memorial Service held for Michael Brown retiree from department 3200 1st shift will be held Saturday, March 1, 2014 at United Memorial Funeral Home located at 75 Dickinson St. in Mount Clemens Michigan. Memorial Service starts at 3pm; Repast immediately following at Vinson Chapel AME Church 22435 Quinn Rd. Clinton Township Michigan 48035 Phone Number 586.792.2130
The family is asking in lieu of flowers or plants please contribute to the Take a Kid Fishing Foundation, www.takf.org
Please keep the Brown Family in your prayers.
---
Father of Troschonia Hall
Funeral Arrangements for Mr. Samuel Hall Beloved father of Troschonia Hall 1st Shift 9131. Viewing Friday, February 7, 2014 3pm –8pm at Barksdale Funeral Home 1120 E State Fair, Highland Park, MI 48203 Family Hour and Funeral Service Saturday, February 8, 2014 beginning at 10am at Synagogue Baptist Church 19326 John R Detroit, MI 48203
Please keep the family in your prayers
Sister of Barbara Dimambro
Funeral Arrangements for Cheryl Burns Sister of BIW Union Sister Barbara Dimambro 2nd Shift Department 9110 Public Viewing Saturday January 11, 2014 2pm-5pm Kaul Funeral Home 28433 E. Jefferson St. Clair Shores, Mich. 48081 Funeral Arrangements Saturday, January 11, 2014 5 -pm Kaul Funeral Home 28433 E. Jefferson St. Clair Shores, 48081
Mother of Daniel Z. Gray (Danny)
Funeral Arrangements for Mrs. Lavada E. Gray mother of Daniel (Danny) Gray 1st Shift 3330. Viewing Friday January 3, 2014 5pm – 8pm (Funeral Home Unknown). Family Hour and Funeral Service Saturday January 4, 2014 beginning at 10am at Northwest Church of God 15705 Parkside Detroit, Michigan 48238.
Please keep the family in your prayers.
---
Father of Yolanda Downs
Johnnie Simuel Beloved Father of Yolanda Downs Former employee of Paint Dept. 9131 & 9110 Current member of Local 889 Viewing: Monday December 16, 2013 5 p.m. to 9 p.m. @ O.H. Pye Funeral Home 17600 Plymouth Detroit, Michigan 48227 Family Hour: Tuesday December 17, 2013 10a.m. – 11a.m. Service: Tuesday December 17, 2013 11a.m. @ Chapel Hill Baptist Church 5000 Joy Road Detroit, Michigan 48204. Please Keep the Family In Your Thoughts & Prayers.
Mother of Martin Wright
Funeral Arrangements for Margie Jane Wright mother of Martin Wright 2nd Shift 9171. Viewing Thursday December 12, 2013 9am – 9pm at James H. Cole Funeral Home 16100 Schafer Hwy Detroit, Michigan 48235. Family Hour and Funeral Service Friday December 13, 2013 beginning at 10am at Russell Street Baptist Church 8700 Chrysler Drive Detroit, Michigan 48211.
Please keep the family in your prayers.
Mother of Tom Kujawski
Please keep the family of Retiree Tom Kujawski who retiree from 9111 / 9110 in your thoughts and prayers. He has lost his mother, Irene Kujawski. Visitation is Saturday December 7, 2013 3pm – 9pm and Sunday December 8, 2013 2pm – 9pm. The funeral service will be held Monday at 11am. Service will take place at Wasik Funeral Home 11470 E. 13 Mile Rd. Warren, Michigan 48093. (Number to funeral home 586.751.3131)
Niece of John Wilding 9131
The 7 year old niece of John Wilding department 9131 Tram 5 and 7 is in critical condition at Ann Arbor Children Hospital.  The parents have no health insurance and need help with medical expenses.  If you would like to make a donation go to gofundme.

Page Last Updated: Oct 07, 2019 (13:17:00)